CPR and First Aid Awareness Program
Educate. Empower. Sustain.
Anyone can learn CPR and First Aid – and everyone should try!
Our CPR and First Aid projects aims to equip individuals with the following skills and knowledge:
How to respond to severe and minor choking to an adults and infant
How to provide CPR to an adult and infant
How to make splint (soft and harder)
How to manage multiple casualty
How to conduct secondary survey
How to deal with emergence scene management
How to prepare lifts and carries
How to manage bleeding and wound care
How to manage certain Environmental Emergencies
How to deal with Circulation and Breathing Emergencies
Prevention and treatment of Non-Communicable diseases
Remote wilderness first aid
Simple Solutions. Big Changes.

CPR and First Aid Classes for Calgary communities initiated.

CPR and First Aid Pilot Project implemented in Tanzania Kilimanjaro region.

In partnership with a local NGO, White Orange Youth, an instructor was trained to continue the CPR and First Aid training program.

White Orange Youth continues CPR and First Aid training program across the Kilimanjaro region

Continual CPR and First Aid training for Calgary and Tanzanian community members.
CPR and First Aid Awareness
Our CPR and First Aid Awareness program equips individuals with the necessary skills and knowledge to respond to sudden medical emergency situations. Our current program is serving the communities in Calgary and Tanzania.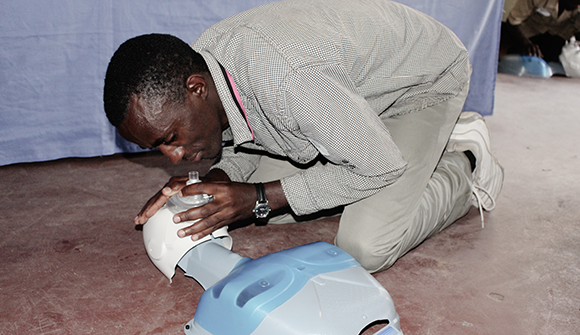 Impacted over 1200 community members in terms of awareness, education and CPR and First Aid training.
500+ hours spent training instructors and building local community leaders.
Operational across the Kilimanjaro region with a population of 1.6 million people.
Operational in the Calgary Community area with a population of 1.2 million people.
Tanzania
Tanzania lacks sufficient health infrastructure and formal pre-hospital emergency medical services (EMS) and the distribution of services is uneven throughout the country.* There is a growing need to equip community members with the knowledge and skills for CPR and First Aid, so injuries/illnesses can be treated and prevented in a timely manner. In Tanzania there are limited-to-no programs that are training individuals on how to respond to medical emergency situations.
Green Sparrow Care, in collaboration with White Orange Youth, created and implemented a sustainable CPR and First Aid training program to different groups around the Kilimanjaro region. In our pilot program, we trained the hearing impaired community, high school students and teachers from several secondary schools in the Boma Ng'ombe district. We also trained mountain porters to help bolster workplace safety and to inspire professional confidence in the tourism industry.
As the demand for CPR and First Aid skills rises in Tanzania, this training is expected to reach more groups each year and is customized to meet the needs of the communities. We need more funds to continue with our training to ensure continued sustainability of this project, please consider supporting us by donating!

Calgary
In Calgary, many individuals in the refugee, immigrant, and First Nation communities have a high rate of medical injuries/illnesses and face more barriers to access of healthcare services. These marginalized groups were unaware of how to respond to a medical emergency situation. Green Sparrow Care working with our local partnerships (University of Calgary, Siksika Nation High School, Enjoin Good, and the Islamic Centre of South Calgary) are providing CPR and First Aid classes to teach these essential skills to improve the health outcomes of these communities.

Facts
Why is CPR and First Aid training needed in Tanzania and Canada?
Tanzania's total population is approximately 50 million but there are only 2 doctors and 20 nurses per every 100,000 people*
Road traffic crashes involving motorcyclists and vehicles are the leading cause of injuries in Tanzania accounting for 47.5% of all injuries seen and 60.5% of mortality caused by injuries specifically.**
Refugees and immigrants reporting excellent health on arrival in Canada, declined by 13% after 2 years due to barriers of access to health services.
Help empower girls to achieve independence and self-sufficiency.